I've said it before, and I'll say it again: there's nothing like a good celebration to derail your healthy eating. And while I am an advocate of enjoying life (including food) I am also not naïve about what can happen if you dig in to the buffet with reckless abandon. For too many women, this is the moment when they fall off the proverbial "bandwagon," and it can take days or even weeks to pull yourself back together and resume a healthy lifestyle.
Well, never fear…The Happy Gal is here! This Fourth of July you can BBQ with the best of them. With recipes like these, you'll get all the satisfaction of celebrating, with just a fraction of the calories. And this food tastes so great, no one will suspect that they are eating healthy.
Sidenote: Just because I love you so much, I've strategically planned this menu to be consistent with the food types and proportions I wrote about in The Skinny on Carbs. Remember the plate diagram? At this BBQ, you'll easily find all the healthy carbs, proteins, and fruits and veggies you're looking for.
And to be realistic, let's talk about how despite all of your careful planning, cookies, chips, and other BBQ fare will show up on your table just the same. Stack the odds in your favor by filling your plate according to the diagram, and leave the cookies and potato chips for the kids.
That said, I think you are now mentally prepared for your 4th of July BBQ….so here are the recipes!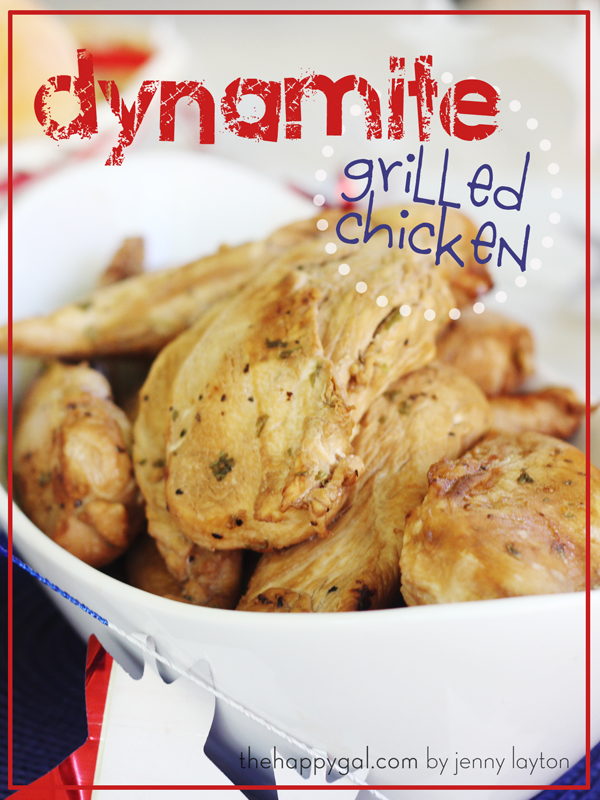 Dynamite Grilled Chicken
4-6 boneless skinless chicken breasts

1 ½ c. vegetable oil

¾ soy sauce

½ c. Worcestershire sauce

½ c. red wine vinegar

1/3 c. lemon juice

2 T. dry mustard

1 t. salt

1 t. black pepper

1 ½ t. finely minced fresh parsley

Marinate one hour or overnight. Grill and enjoy!
Fruit platter (strawberries, blueberries, and bananas) with creamy fruit dip
Creamy Fruit Dip
8 oz. fat free cool whip

8 oz. low fat strawberry cream cheese spread

Soften cream cheese and mix with cool whip. Serve with your favorite fruit.
Pear Gorgonzola Salad
Click HERE for salad recipe.
Poppy Seed Dressing
3/4 C. Sugar

1 Tbsp. Dry Mustard

1/2 tsp. Salt

1/3 C. Cider Vinegar

1 Tbsp. Onion Juice (Just put this in the blender very first)

1 C. Olive Oil

1 1/2 Tbsp. Poppy Seed

Few drops of lemon juice
Mix sugar, mustard, salt, cider vinegar and onion juice. Beat oil in gradually until smooth. Stir in poppy seed. Chill before serving. (I slightly reduce the sugar.) Tip: Mix this dressing in a blender bottle and store in the fridge for future salads.

Remember, ladies, Food is Your Friend. Find that healthy balance between taking good care of your body and enjoying life. I have much more to say about this and other healthy practices in my Love Your Self program. Click here for more information.
More great recipe ideas for your 4th of July BBQ:

Buffalo Chicken Sandwiches or Salad
Save