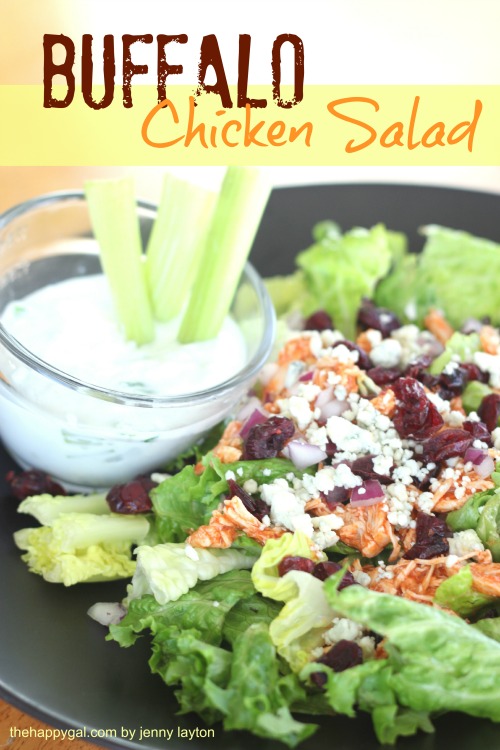 [pinit count="horizontal" url="https://thehappygal.com/buffalo-chicken-salad/" image_url="https://thehappygal.com/wp/wp-content/uploads/2013/05/The-Happy-Gal-Buffalo-Chicken-Salad.jpg" description= "Give yourself a real treat for lunch…try this buffalo chicken salad with craisins, green onion, and blue cheese. Also makes a great buffalo chicken sandwich for dinner! www.TheHappyGal.com #salads #healthy #yummyfood."]
You're gonna love this one! Seriously. My mouth is watering right now, and I'm not even hungry. Use this chicken recipe to make buffalo chicken sandwiches, or a buffalo chicken salad. You can't go wrong either way.
And good news…This makes a great meal – fresh or frozen! Be sure to check out my freezer meal post
here
for more great tips on making freezer meals.
Buffalo Chicken
2 t. paprika
2 t. chili powder
6 chicken breasts
1 T olive oil
½ c. hot pepper sauce
In a small bowl, combine paprika and chili powder.  Then sprinkle spice blend over chicken breasts.  Lightly coat a large skillet with cooking spray and place over medium-low heat.  Place chicken breasts in skillet; cook for 6 minutes.  Turn and cook until no longer pink in the center, about 6 more minutes. Place a large saucepan over low heat.  Add olive oil and heat for 1 minute.  Stir in hot pepper sauce.  (If using as a freezer meal, now place chicken breasts in freezer bag, and sauce in another, then freeze.  Thaw and reheat chicken in oven, on skillet, or on grill if desired.  Heat sauce and coat the chicken.) If eating immediately, then serve in whole wheat bun, thin bun, or on lettuce.  Can add tomatoes, onion, blue cheese dip as dressing, if desired.  Serve carrots and celery sticks with dip if desired.
Buffalo Chicken Salad
Shredded chicken mixed with Sauce
Craisins
Light blue cheese
Green onions
Blue Cheese Dip for Dressing
Blue Cheese Dip (Make fresh day of serving)
¾ c. fat free sour cream
¼ c. reduced fat blue cheese, crumbled
2 sliced green onions
Combine all ingredients and serve with carrot and celery sticks.
Save